It all started in 2012 when I saw the movie Zindagi Na Milegi Dobara (a Bollywood film based on travel) for the first time. Since that day, I had been waiting for the opportunity until October 2016 when finally I made my first dive.
The coral reefs of Andaman Islands are said to be India's own version of the Great Barrier Reef. At some places, the corals can be seen just dipping our face into the water. Scuba diving is one of the must-do adventure activity in Andaman and can be done on several places (Havelock islands, Neil Island, Barren Island, Elephant Beach, North Bay Island, Mahatma Gandhi marine national park and Cinque Island).
I did my scuba diving on the North Bay Island, which was very near to Port Blair. North Bay Island's famous lighthouse is on the backside of an Indian 20 Rupees note. We took a ferry from the Rajiv Gandhi Sports complex to the island, which will also take us back to Port Blair.
The island offers a plethora of water activities suitable for all age groups. From glass boat rides, submarines to snorkelling and sea walk. There are plenty of counters from where you can buy the tickets on the spot. The tickets include the diving gears. Moreover, they have trained instructors for those who do not know how to swim.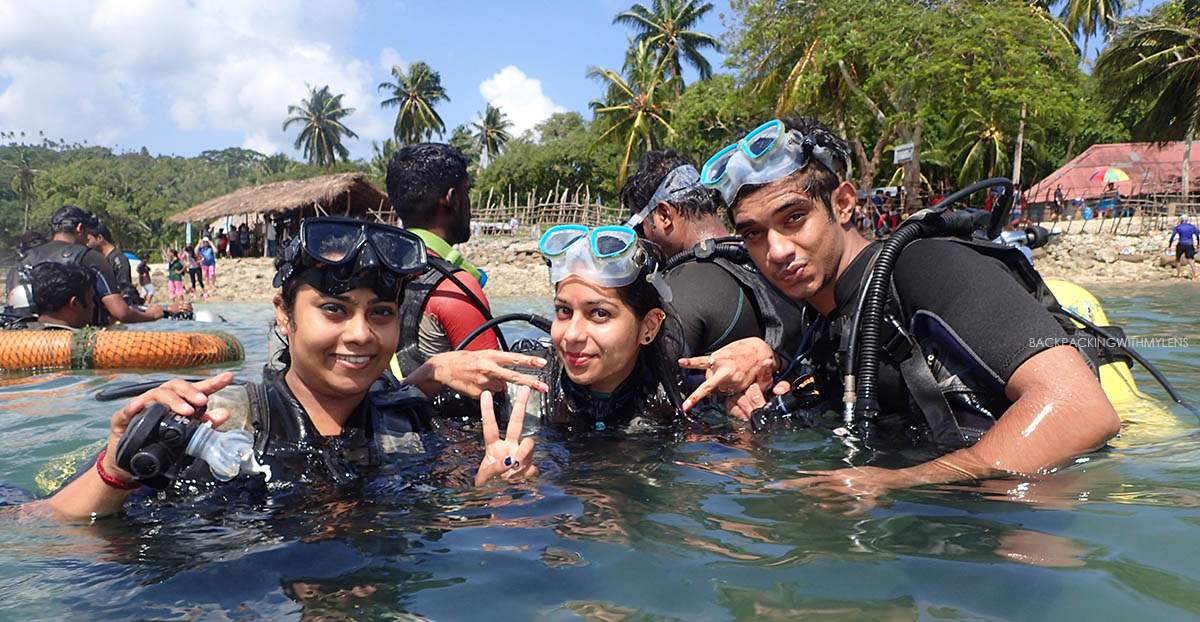 We were a group of 5 friends doing this together. Before diving, we had a 30 minutes training session in which the instructor taught us how to hold the oxygen cylinder, to breath in the oxygen and signs that would come handy underwater. There are five main signs that we were made to learn by heart: UP, DOWN, OKAY, NOT OKAY and EQUALIZE.
Before making our first dive, we had a small photo session. Soon after the photo session, we were made to float on water in a sleeping position. The instructor dragged us few meters and then told us to get into standing position and signalled DOWN.
The view underwater was dark in some places and shiny bright at some places where the sunlight was passing through the water nicely. Corals were dancing with the waves and fishes were roaming all around. We passed through few caves and colourful coral reefs. Saw many beautiful fishes like the blue tang, clown fishes, angelfishes and more. We came up after 30 minutes, which seemed very less.
As they say, every good thing has an end. This was an end to a fascinating journey underwater exploring the treasures of Andaman. That day I not only brought memories with me but an experience worth living for 🙂
Living the ZNMD moment 😀