The walled city also known as Shahjahanabad during the Mughal reign has always attracted me. This place later came to be known as Old Delhi and is simply chaotic. Narrow lanes, hanging wires, old monuments, crowded markets and tasty street food are few things that perfectly describe it.
Every Hour is a Rush Hour here…
Mom and I walked out of the Chawri Bazaar Metro station at 7 in the morning and to my surprise, the place was already buzzing and crowded. I wonder how DMRC (Delhi Metro Rail Corporation) managed to build such a huge metro network here. I was out there with my mom on a winter morning in search of wedding cards for my sister's wedding. As I was walking towards the card market, I saw hawkers selling freshly made Pakoras and Tea. How could we resist this on a winter morning? We quickly snacked on the Pakoras and headed to the card market.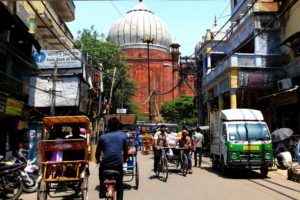 Picking the right card!
Picking the right kind of card is a major task in Indian weddings and so there is a dedicated market for this. The card market in Chawri Bazaar is where you can get any wedding card, you ask for and it would be thrown on your face! The plus point is that they also have a ready format for you, all you need is to give them the names that you want on your card. It took us nearly 3 hours to pick the right one for my sister and another 2 hours to get it ready (printing, paste etc…). Mom and I had a lot of time to kill and so we decided to take a stroll. We knew that we could easily get lost on foot, so we took an e-Rickshaw (Planet saving autos that work on batteries) to reach the Kinari Bazaar.
All that bling!
Every market in Old Delhi is a wholesale market specialized in something or the other. Kinari Bazaar is specialized for stuff you will need for Indian parties (not the Christmas/ New Year ones). You'll get everything that you need to decorate your house, marriage venue, gifts decors and even dresses. As we walked by the shops we saw metres and metres of designer embroider threads hanging from the roofs. Every other person was calling us out to his or her shop; some were even chasing us for a distance (in case we changed our mind). We had a very specific thing to buy, a medal box! There was that one shop that only kept a collection of boxes. I needed boxes for the medals that I've won in my Karate tournaments. Finally, we found the shop and bought 3 medal boxes (out of which 1 is still empty!). Then we headed to Dariba Kalan, which is just next to Kinari Bazaar.
Obsessing over Silver jewellery…
Mom and I had heard a lot about the Silver market of Dariba Kalan selling amazing pieces of jewellery and articles made of silver. We Indians have a fetish for gold but this place will definitely make you obsessed with silver. We went to one of the famous stores Dau Dayal & Co. The owners were kind enough to take us through their jewellery collection. All we bought were two small silver bowls that were needed during the marriage ceremony. We were hungry and dehydrated by now. Even though it was winter, the sun was sharp enough to suck up all our energy. We still had an hour to kill and so we headed to Khari Baoli on an e-Rickshaw.
Gulping down the Mutter Kachori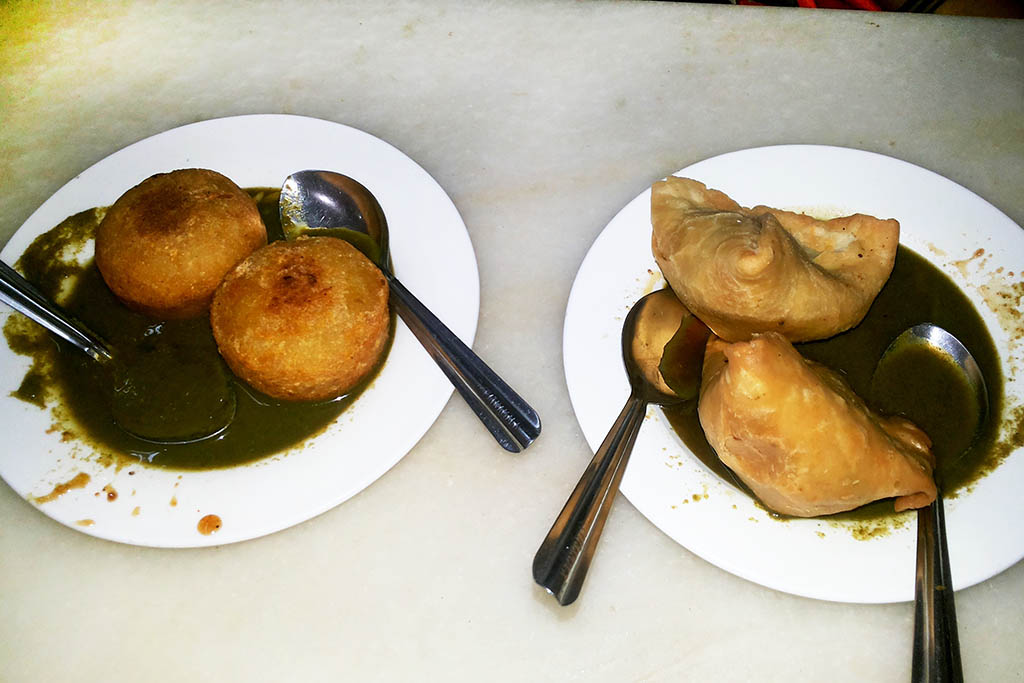 Asia's largest spice market also serves one of the best Mutter Kachori (Fried dough stuffed with Peas) in Delhi. We ordered a plate of this and Chole Bhature (Spicy white chickpea and fried bread). The oil dripping bread and chickpea were heavenly in taste and we enjoyed every bit of it. While searching for a return ride, I noticed a man sitting beside the ice-cream parlour selling his rare and old collection of coins for 10 INR. I interacted with him for a while, as he told me stories about his coin collection. Also, this was his only source of earning. I felt bad and bought two rare coins from him just as a token of respect.
Evening at Chawri Bazaar
The place seemed more crowded than ever. We literally swam through the crowd until we reached the shop. We collected our card bundle that weighed 5 kilos after all that pasting. As we were heading back to the station, I took a moment and turned to see the Jama Masjid all lit up, smiling at me! 🙂