Ever experienced a moment when you cannot control stuffing food into your mouth! This is exactly what happens as soon as you enter the Mini Bengal of Delhi aka Chittaranjan Park. Your nasal muscles go involuntary within seconds of entering the place by the fragrance of fresh Kathi rolls and Rasgullas.
Everyone imagines fish dishes while thinking about Bengali food whereas it is quite the contrary. There is a long list of vegetarian dishes, street food and what not. Here are the top 10 Bengali street food dishes one must definitely try:
1. Jhal Muri (Spicy Puffed Rice)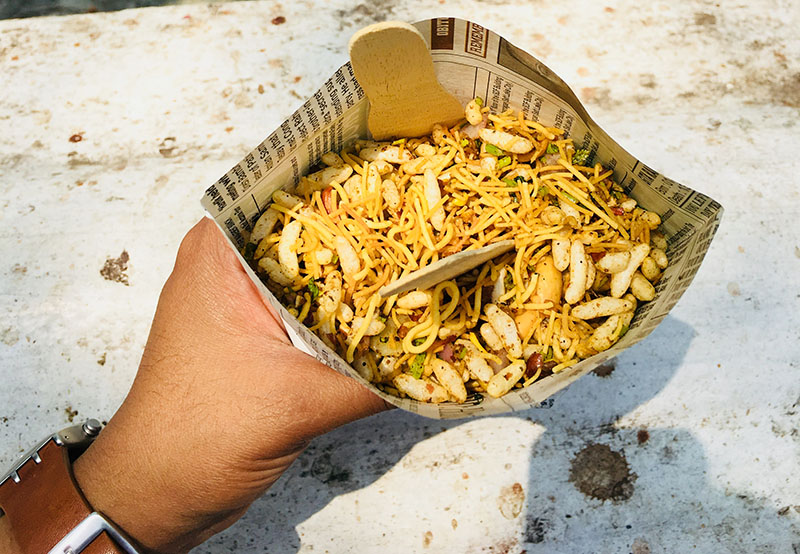 A household snack made of puffed rice, chopped veggies (onion, boiled potatoes and tomatoes), peanuts, Bengal gram and many spices. Don't forget to ask for an extra slice of dry coconut. Take a hand full and stuff your mouth!
Where: Main entrance at Market No.2
Price: 20 INR per plate
2. Puchka (Golgappas)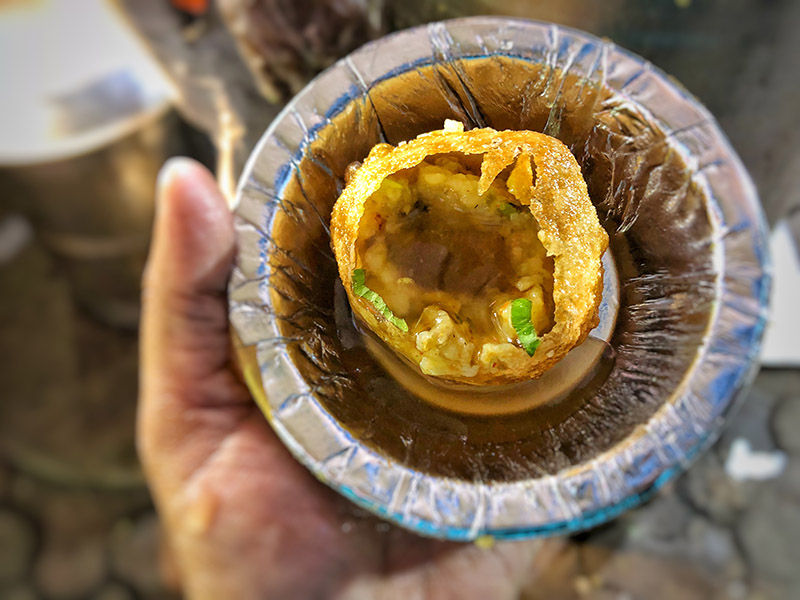 This snack has many faces but what makes it different from others is its filling. The filling is made of boiled potatoes, chickpeas, tamarind, green chilli, coriander and many spices all mashed together. The tanginess is too hard to resist.
Where: Raju Puchka Wala, Market No.1 (Near Canara Bank) or Aristocrat Sweet Shop
Price: 20 INR for 6 pieces

3. Churmur and Aloo Kabli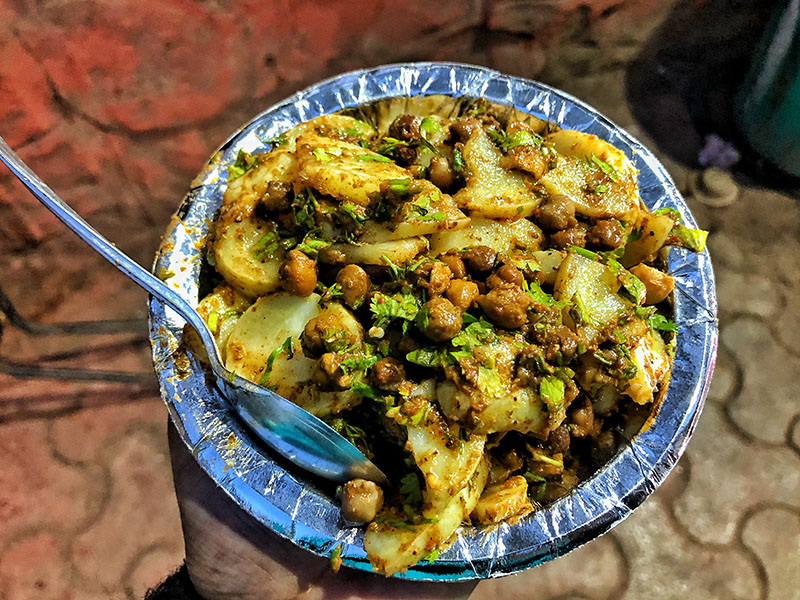 These are the two favourite dishes among school kids. When you are low on money and want something filling, these two come to rescue. Churmur is nothing but a mashed version of Puchkas. Aloo Kabli, on the other hand, is a simple type of potato salad. The flavour is a mix of hot, spicy and sour taste and contains boiled potatoes, chickpeas, yellow peas, onions, tamarind and spices.
Where: Raju Puchka Wala, Market No.1 (Near Canara Bank) or Yummy Kolkata
Price: 30 INR per plate

4. Chops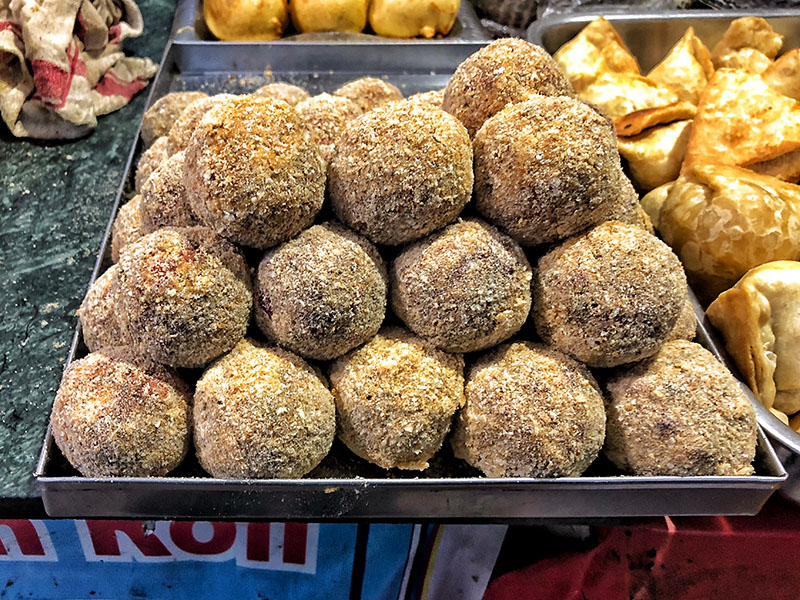 Chops are stuffed cutlets, with a crispy cover and a delicious filling of meat, fish or vegetable inside it. If you visit a Bengali household, then be ready for some mutton or vegetable chops! They are oily for sure but taste amazing when had with a cup of hot tea.
Where: Dadu's Cutlet Shop, Market No.2
Price: 10 – 30 INR per piece

5. Egg Devil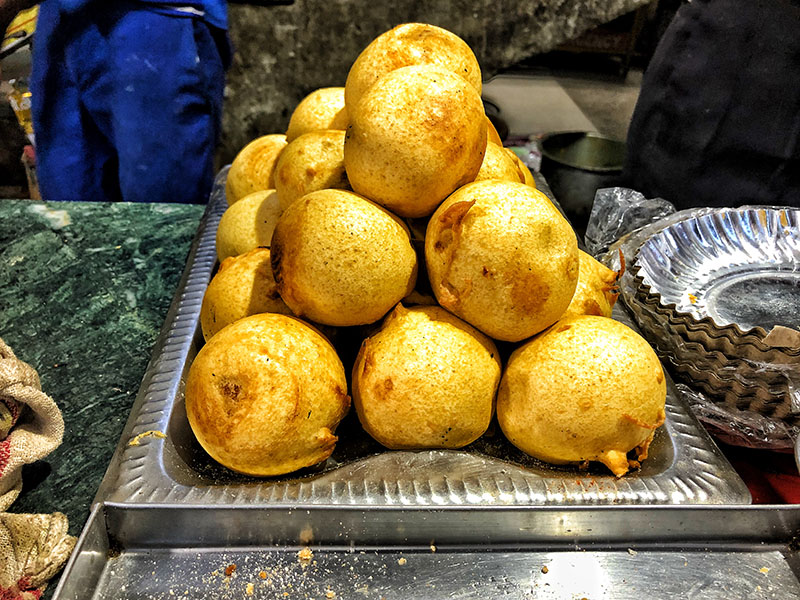 Better known as Dimer Devil and is a kind of chop. The main filling is a boiled egg cut into half and covered with a layer of boiled potatoes. To put in simpler terms, they are deep fried deviled egg fritters.
Where: Dadu's Cutlet Shop, Market No.2
Price: 30 INR per piece
6. Beguni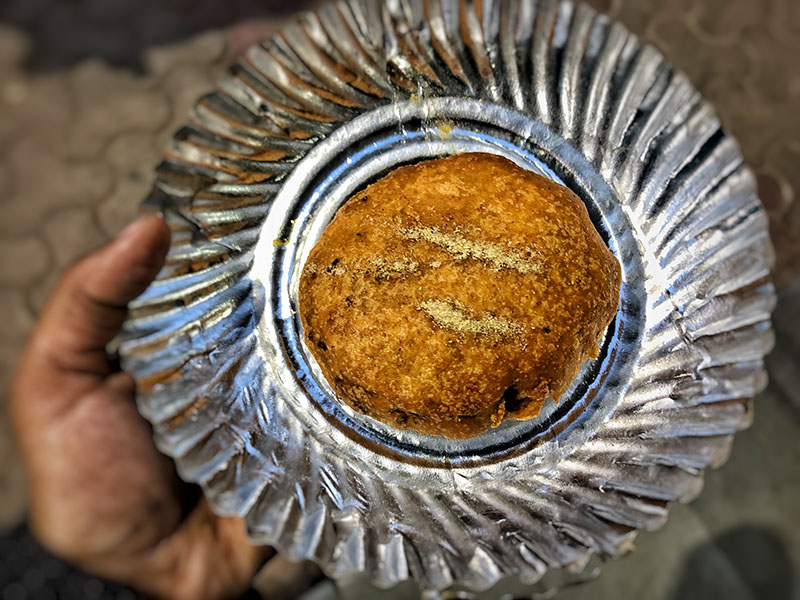 This dish takes its inspiration from a European dish. Beguni is sliced eggplant, battered and deep-fried in oil. The best combination to have beguni is with piping hot Khichdi.
Where: Shop next to Kendriya Bhandar and behind the bookstall, Market no.1
Price: 10 INR per piece

7. Kathi Roll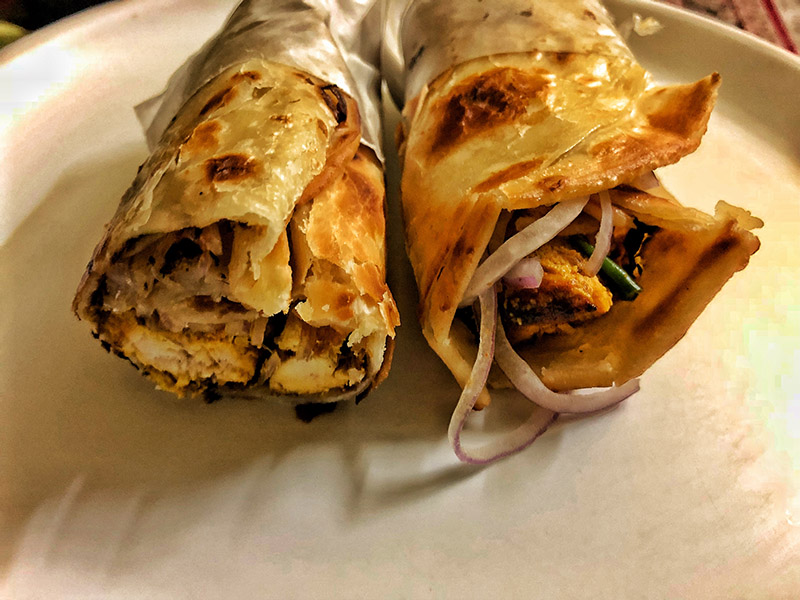 Kathi roll originated from the streets of Kolkata. The roll contains a filling of skewer-roasted kebabs wrapped in a paratha flat bread and complimented with chopped vegetables like raw onions, cabbage and carrots. Although the style of kathi rolls have evolved over the years. However, the taste remained the same. Imagine, Indian- style Burritos, Shawarma Rolls, you get the view!
Where: Roll n Roast, Market No.1 (My go-to place)
Price: 50 – 150 INR per roll

8. Chinese Chaat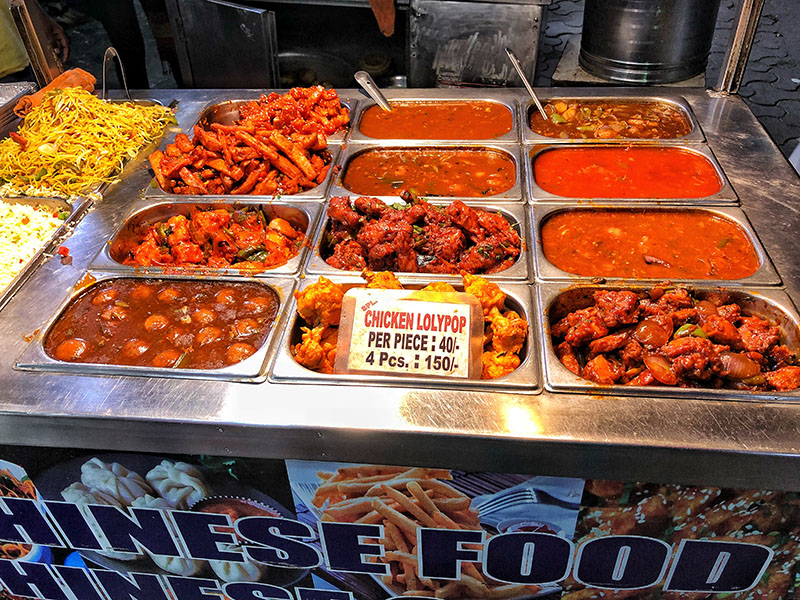 Despite of the fact that this has not originated from the streets of Kolkata and has no relation with Bengali cuisine. However, this remains on my top list, as it is one of the most popular dishes in C.R Park. The Chinese Chaat is a mixture of various Chinese dishes (Manchurian, Chilly Paneer, Chilly Chicken, Honey and Chilly potatoes etc.) and is served with either Fried rice or Hakka Noodles.
Where: Roll n Roast, Market No.1
Price: 150 – 250 INR per plate

9. Radha Ballavi (Bollobi)
This is the national breakfast of Bengal and is a must-have if you visit C.R Park before noon. The lip-smacking Lentil stuffed Puri served with hot Potato curry is hard to resist and will definitely make your taste buds happy.
Where: Kamala Sweets, Opposite Chicken Corner near Market No.1
Price: 100 INR per plate

Ghugni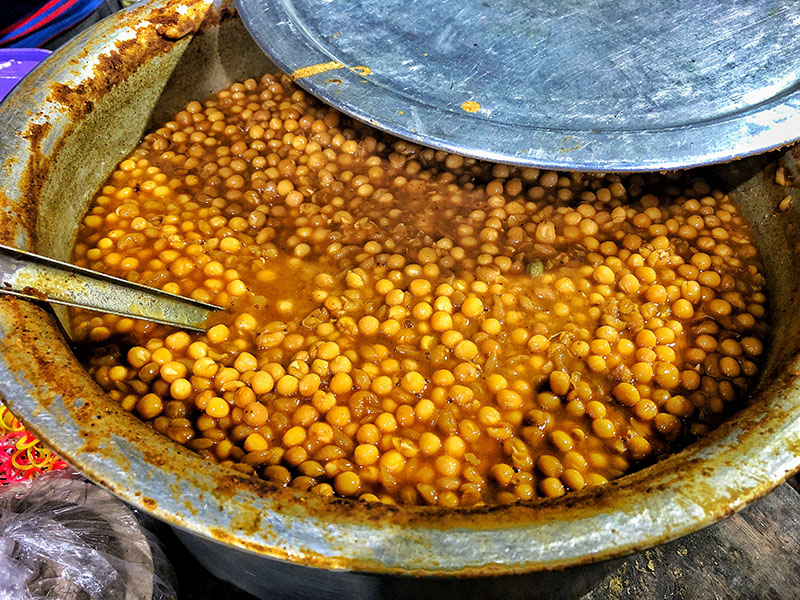 Ghuni is another favourite evening snack in Eastern India. Evenings seem incomplete without a plate of hot Ghugni. Different regions prepare this differently. In Bengal, this is prepared with dried white peas cooked with gravy and served with chopped raw onions and coriander.
Where: Backside of Market no.1 (Opposite Chicken corner)
Price: 20 – 30 INR per plate
P.S: If you want to take a Food Walk with me… Give me a shout out or DM me on any of my channels (@backpackingwithmylens) 😉